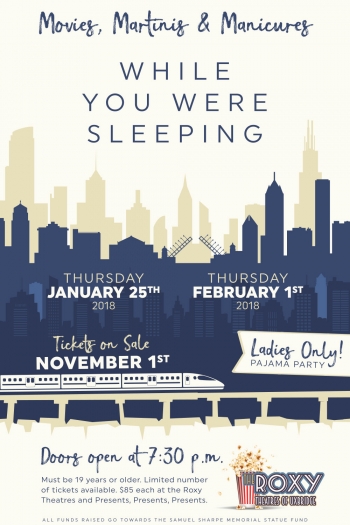 Movies, Martinis and Manicures
*PAJAMA PARTY!!! TICKETS ON SALE NOW AT THE ROXY BOX OFFICE AND AT PRESENTS, PRESENTS, PRESENTS (905) 852-9544*
2 Nights Only!! Thursday, January 25th and Thursday, February 1st, 2018
Welcome to our 11th year of "Movies, Martinis and Manicures" featuring the fabulous "chick flick" called "While You Were Sleeping" starring Sandra Bullock and Bill Pullman and a host of other "just plain likeable" stars. I am so excited about this evening, and the activities and surprises we have scheduled for you, our special ladies. Not only do we get to sit in the dark, loaded up with great yummy treats for a cozy movie with our "gals", we also get to enjoy specialty treatments beforehand including manicures, possibly a facial, massages…oh the possibilities are endless with our fabulous volunteer estheticians, all while nibbling on bucketfuls of savory foods guaranteed to fill all of those needed spaces to bring about a feeling of satisfaction and fulfillment. And, here is the best part…we get to wear our comfy jammies (and if you are like me…eating clothes), while keeping our toes warm in our brand new, unique, one-of-a-kind Roxy Slippers created just for this event. The eye mask (with your door prize ticket attached) can be worn as well as a headband to show our bond with each other as women of distinction and ladies who know how to have a good time. And, we mustn't forget…it's in our DNA to love to shop and our silent auction tables will not disappoint. With a few live auction items to get our excitement building and opportunities to win best PJ's of the evening (meeting a very exacting criterion of eligibility…not!!!! Go wild ladies…I know I will, as I have 3 different pajama looks to showcase as I lead you through our evening of frivolity as your emcee).
Finally and most importantly, all funds raised from tonight's event will be donated to The Samuel Sharpe Memorial Statue Fund, not only recognizing an amazing man from our community history but also bringing awareness to the desperate emotional trauma experienced through PTSD (Post Traumatic Stress Syndrome).
Doors open at 7:30 p.m. where you will be greeted as you arrive to the first cocktail of the evening, the Roxy "MMM" and I guarantee a tingle will be left on your tongue.
There are only 110 tickets per evening and this event usually sells out quickly so don't be disappointed…get your tickets sooner vs later. Also, this makes a great gift for Christmas and it already comes gift wrapped. I call it the "Gift of Time" with your best girls for laughs and giggles while making a difference in your community. Please note: Only 19 years and older can attend and it is for Ladies Only.
Cathy (Call me for any further details or questions, or how you can be involved in donating to the event 416-989-6963.)