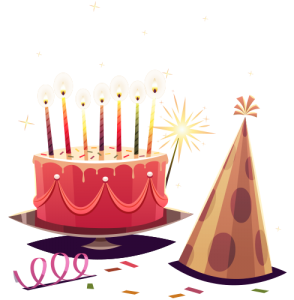 Birthday boys and girls get "V.I.P." movie access at Roxy Theatres
Our friendly staff will ensure you and your friends have the best seats in the house on your special day. We'll make you feel like the "star of the show" when we wish you a Happy Birthday during our pre-movie announcement.
More information about booking your party.
Thanks for inquiring about a birthday party celebration at the Roxy. The ticket price is $7.00 including taxes per person for the matinee screenings – that is the adult price as well. The evening adult ticket price is $10.00 per ticket. Both prices include tax.
Sometimes, we know for sure what we will be playing on a specific date and sometimes we don't. We put in our "wish list" and hope the films we request will come our way. The Roxy does always try to have a family rated film for at least one of our matinees. As we get closer to the date we can give you a better idea of what we are hoping to have.
We are frequently asked is if we offer birthday package discounts. We pride ourselves on lower ticket and concession prices, which are offered all the time, so we can't offer any further discounts. The Roxy is meant to be affordable for everyone in our community, every day.
We do offer that extra special attention for our birthday guests such as pre-seating. We ask birthday parties to arrive 5 minutes before the box office opens (with exception being opening nights of new movies) so they can get the best seats in the house and our helpful staff can assist with their concession treats. Most of our parties have the Small Combo – small popcorn, small drink and a packaged treat from the top shelf which is $8.25 each (savings of $1.00 over purchasing separately) + hst.
We don't have a room in which to have cake and presents but any of the surrounding restaurants would welcome the opportunity to help you out.
If you would like to book a party, email me the name and age of the birthday person, how many people are in your group, which movie you have selected to see, the date and the time or fill out the form below. We even announce the birthday boy/girl's name and wish a great big happy birthday before the movie starts.
I hope I have been able to answer all of your questions, but if not please do not hesitate to contact us again. Thanks for thinking of the Roxy for your birthday plans.
Please fill out the form below to book your party